Bartering your way to more business
Barter, ie trading, your goods and services for other goods and services is a tradition started in the early years when farmers traded chickens to doctors for medical attention. Today, you can use trade to get what you need in exchange for a service or product you have to offer.
Trade
can involve services ranging from pest control to
public relations
to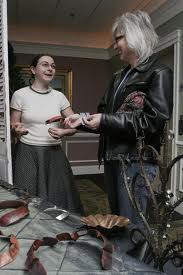 salon services, clothing and housekeeping.
In economic tough times, trading for goods and services is a great way to free up cash flow for items that aren't available on trade; think rent and utilities. You can even compensate employees through barter, whether it's a portion of their paycheck or a bonus or incentive.
Here are some benefits of trade and these benefits can be enhanced by membership in a trade organization:
Build community and a network of individuals you might never have met without a membership in a trade organization
Increase your business's recognition and build a name for yourself by having access to a new network of potential clients
Decrease cash outlay – a boon to a new venture. Imagine being able to advertise without having to write a check!
Generate potential cash customers
Network with like-minded business owners
Being able to move surplus or outdated goods
The basics of getting started in trade include:
Attending networking meetings that promote trade
Offer a value-added incentive to entrepreneurs you meet as a way to have them take a chance on what you have to offer. Consider a money back guarantee, buy-one-get-one free offer or a free consultation.
Be a specialist. Generalists sometimes spread themselves too thin and may not be viewed as a professional. One caution, though, don't be too specialized or you will work your way out of a job.
How to win in the trade game:
Know what your limit is for trade. Don't get "underwater" with trade. You can't be bringing in 100% trade. You still need to operate with cash customers.
Be clear on what you are trading. Perhaps you're an accountant – you can trade bookkeeping services, but maybe not fees paid to file sales tax forms, as an example.
Price your services correctly. Don't overprice, or under-price, your goods and services simply because you're in trade.
Don't forget about taxes. Trade doesn't exempt you from having to pay taxes on what you've traded. Join a trade association that does your "bookkeeping" for you so you can track what's coming in, what's going out, and that will offer you the paperwork necessary for proper IRS reporting.
 Business owners are becoming more receptive to the idea of trade as a way to grow their entrepreneurial ventures.