Why The Barter Dollar Is More Powerful Than Cash
Do you believe that spending money in a barter network is more valuable than spending cash? If you don't, then keep on reading and see if you don't change your mind by the end of the article.
Doing business in a barter network is different than doing business in the standard marketplace. In fact, there are several benefits to using a barter network to conduct business, which gives the barter dollar more value than the cash dollar.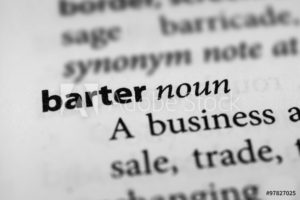 Relational Value
When was the last time someone asked you what you do for a living when you were spending cash or using a credit card? It typically doesn't happen unless someone is making small talk. When you do business with a Tradesource member, one of the first questions they may ask you is "what do you do in the network." This aspect gives barter currency more value simply based on the fact that it usually opens the door to talking about business. Very often that will lead the person to discuss their experience with your type of business. While they may not need your services immediately, they now have a resource that they can consider when they do need what you do… and they won't have to pay cash for it.
We live to say that barter "puts a face on currency".
Easier to Earn
Earning barter money is easier than earning non-barter money in many cases. Why? Because there is a network of people who have the (barter) currency and are willing to spend it to save their non-barter money. If you don't have enough barter currency, you should connect with your broker to have him or her help you get your offer in front of the network.
Get Paid Immediately
Often when you do business, you might send someone an invoice, which may provide a window to pay it or in a worse case, they might take the liberty to give themselves a window to pay for it.better outfit ideas. With the barter network, you will get paid immediately as long and you confirm that the purchaser has the funds in their account prior to doing business with them.
Hopefully this helps you see the value of the barter dollar and hopefully you agree that it has strengths that the cash dollar does not.
If you are not yet a member of a barter network, I invite you to consider Tradesource, which is one of the oldest and most trusted barter networks in the country. Visit http://tradesource.net to download our free report, "
10 Reasons to Join a Business Barter Network".